In this week's MABBH Spotlight we are so excited to introduce to you the Sweden born model, vegan food enthusiast, and all around effortlessly cool it-girl: Eddie Mitsou Pettersson. Read on to hear about her experience in the modeling world, how she stays on track while traveling, holy grail beauty products she swears by, her blog and plans for the future, as well as the best vegan spots to hit up while in NYC and LA.
1. Hey Eddie, tell us a little about yourself!
Hi guys - my name is Eddie Mitsou and I was born in Stockholm, Sweden one beautifully crisp November morning. Today I'm a model and vegan health entrepreneur living between Los Angeles and New York. I'm in the final process of publishing a book I've been working on for the past couple of years (update: it's coming out this Spring!); with a mission to inspire young women to choose a healthy plant-based lifestyle for themselves, but also for the environment.
2. What was the catalyst to make you go vegan?
I had been mainly vegetarian since my early teens, since I never liked the taste or texture of meat. The thought of eating meat also made me cringe, realizing I was eating a dead animal. When I was living in Istanbul the fall of 2012 I started getting more and more interested in food as medicine - and how what you eat actually affects your mental health as much as your body. I decided to go on a vegan "cleanse" for one month- but never came back from it. I felt so inspired, happy and healthy from only eating plants that I didn't see a reason to go back to putting things in my body that wouldn't benefit me. So, it all really began from health reasons. And later on, it developed into a passion to help save our planet.
3. How long have you been vegan for, and what has your experience been like adapting to our society?
I'm going on 7 years as vegan! Personally, I don't find it hard at all. I guess I'm an expert at finding vegan options at pretty much any restaurant. You just have to give your best smile to the chef and ask him to sauté the veggies in olive oil instead of butter – or convince them to remove the cheese from the pizza. I always tend to have a vegan protein bar in my purse as a backup in case I don't get enough food while dining out with friends. There´s solutions for everything.
In the society in general I feel like I'm getting more respect for standing by my point and believing in something in a passionate way. I rarely feel like people judge me – but if they do I will preach a lil' lesson and they usually end up quiet. But, most of the time people just get inspired from my choices. I can't tell you the number of guys that have "gone vegan" just because they want to go on a date with me. If I ended up going on a date, I always made sure to pick the place and bring them to one of my favorite vegan restaurants. And they always love it. I can happily say that I converted at least 5 guys into becoming plant-based. That's not through preaching or telling them my way is the only way, that's only through being my own inspiring self. I believe in showing with good example rather than pushing information onto people.
4. You've been a professional model since 2008, what has been the biggest take away or words of wisdom you would give anyone looking to pursue your career?
When I started modeling it was a different time then it is today. It wasn't the world of Instagram and plastic fame. It was a time where you got booked by a client because of how you naturally translated in pictures or the way your personality was. It was way easier and a much more holistic way if you ask me.
But in general, though I will say what many said before; don't give up and always believe in yourself – because if you don't, then who will? It's a very competitive industry and it has many ups and downs. But, if it's something you're passionate about stay dedicated and continue working towards your goal. I can't even explain how many times I've been denied jobs or gotten big fat NO's. But hey – that didn't stop me did it?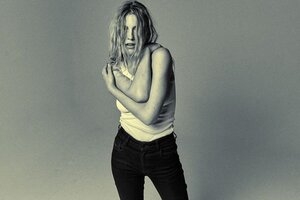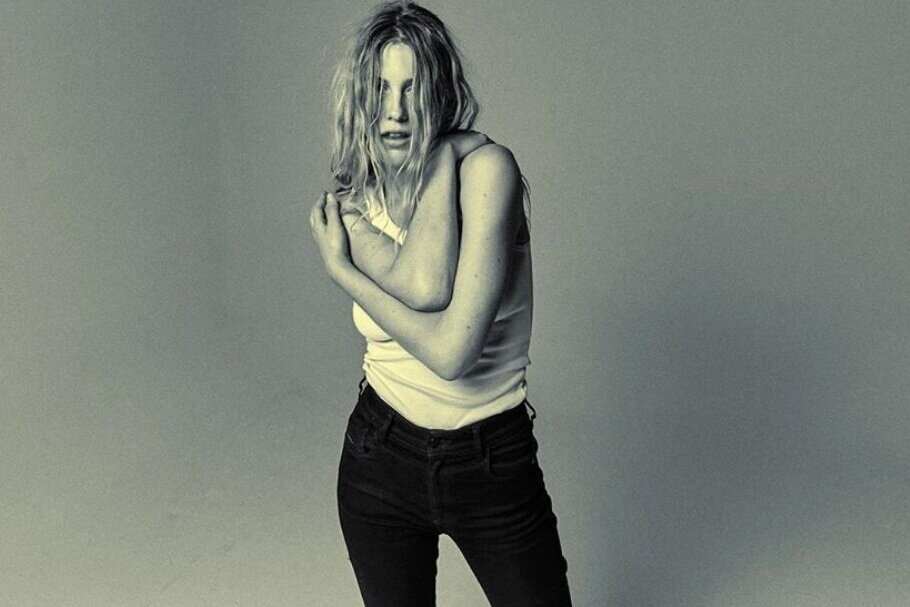 5. Since for work you travel often between Los Angeles and New York, as well as your hometown of Stockholm, we're dying to know your top healthy vegan picks and hacks for what to eat in airports?
A lot of people ask me about this – if it's hard to be vegan when traveling. The answer is no. It's honestly so easy. Usually, I will go to Erewhon or Whole foods the day before my flight and stock up on raw vegan chocolate, protein bars, some new exciting vegan kale chip flavor and a trail mix. I don't know why – but I always get sooooo hungry when on the plane. Usually end up eating double the amount I would on a normal day, haha.
If I get a last minute job and I don't have time to prepare, I will usually buy a large Americano with a dash of almond milk from Starbucks, one of those small hummus + pretzel boxes (I eat the hummus with spoon since I don't eat gluten), an apple or banana, some kind of dark chocolate (over 70% cacao is almost always vegan, just that it doesn't say it since there might be traces of milk since it's been made in a ordinary factory) and maybe an overpriced bag of dry roasted almonds.
These might not be very organic and super clean, but this is my "worse scenario" go-to's. Although, I find that most airports today actually have a lot of good options of vegan protein bars, snacks etc.
Oh – and number one tip is to bring your own bottle. I do that most days since since I want to reduce my plastic usage, but especially when traveling. Airports also stupidly usually charge over 5 bucks for a bottle of water. Insane. Most airports today have a filtered water system next to the bathrooms where you can see how many plastic bottles you have saved being produced by using the system. It always makes me happy seeing the number!
6. Do you have any 'holy grail' vegan beauty products you always keep with you while in flight or traveling?
I'm addicted to The Ordinary's Hyaluronic Acid 2% + B5 which is a hydrating formula with ultra-pure, vegan hyaluronic acid. Since flying dehydrates you this is the perfect sized travel moisturizer. You find it for under 8 bucks, so it's one of these products I like to own a couple of laying around in my purse wherever I go.
Lip balm also super important: one of my favorites right now is Ded Cools Chaztick's. The mint one is perfect for traveling since it's refreshing. On a day to day the watermelon one is my fave since it's so yummy.
I also always bring one of those eye patches masks with either collagen boost or cooling effect to reduce puffiness. I tend to leave them on for quite a while since I usually forget while watching a movie and munching kale chips. ACURE Radically Rejuvenating Under Eye Hydrogel Mask is a nice one that's vegan and free from a lot of toxic chemicals that most of the ones you find at commercial stores contain.
And last but not least; eye cream. Recently I've been addicted to Olehenriksen Brightening banana eye cream. Collagen and Vitamin C boosted and reduces puffiness and appearance of dark circles. Vegan and cruelty free. You almost don't even need concealer.
7. As a model, you have the experience of working with many different amazing fashion brands. We are all about sustainability and ethical shopping when at all possible. Do you have any sustainable clothing brands that come to mind that you've been loving?
I wish I only worked with sustainable clothing brands, but unfortunately, I'm not as far gone in my career that I can make that decision for myself yet. I don't have a favorite sustainable clothing brand at the moment. Personally, I shop 90% second hand and combine it with 10% of well thought through investment pieces I know I will wear and love for a long time. That's a sustainable mindset for me. I never shop fast fashion. That also ethically not something I want to support.
8. As well as being a full-time model, you also run your own vegan food blog which details great plant-based recipes and adventures.
What is your favorite thing to cook for yourself on a lazy day and what is your favorite dish to cook for friends?
When I'm in New York I sadly don't cook as much since my kitchen quality (aka size) isn't the best in my lil' Manhattan flat. So, a lot of eating out and discovering vegan gems happens.
My usual meals at home in LA that I like to cook are huge salads- loaded with greens, fresh vegetables, lentils, avocado, seeds and a lot of tahini dressing. Like, I love dressing. I love a meal more "dressing with salad" if you know what I mean. ;)
Dressing is something I like to make because it's full of healthy fats, so it's just good for you. Olive- or avocado oil, tahini- or almond butter + water and lots of spices goes a long way.
9. Where do you see the vegan community as well as yourself evolving within the next 5 years? Any projects you can let us in on?
I have a lot of projects that are up and coming. I guess I always tend to work hard in private and never share until it's all done! ;) But, since I already mentioned, my first book is going to be out sometime this fall. This is a big passion project for me and something that I'm very excited to share with you all. Within the next coming couple years I have something else cooking. Or, maybe I should say baking… ;) It's going to be found in stores and taste delicious. That much I can say.
10. Lastly, everyone always wants to know the latest and greatest vegan spots.
What are your top LA and NYC food joints people can possibly catch you in?
NYC:
- Always a classic; "Lyfe Thyme Market" – best organic market with tons of daily fresh made raw vegan and nutritious meals. Also good prices. Not too overpriced.
- For that fancy date when you're not paying the bill: ABCV Kitchen. Insanely tasty vegan food. Don't miss out on their butter bean dish. Also – anyone you bring there will forever be convinced vegan food is super tasty.
- I recently discovered this vegan Mexican place in lower east side called "Jajaja". Really cute décor, and amazing vegan cheese heavy nachos. Their open late too, so good for a late night meal.
- Also, always and forever; Juice Press. My picks are the raw oatmeal or summer kelp noodles when I'm looking for a quick bite when I'm on the go. Obviously, good juices too.
LA:
- Erewhon Market. For years I was called the "Queen of Erewhon" since I went there twice daily – lunch and dinner – for years. I was also dressed up as Erewhon for Halloween one year. You'll still catch me there at least once a day when I'm in LA. There's no place like Erewhon. You have to go there and see it for yourself. Don't miss their vegan buffalo cauliflower from the hot food bar. And the kefir margarita from the juice bar. A little pricey, but worth every penny.
- Shojin. Vegan sushi in downtown LA. Secretly hidden in the top of a mall in Little Tokyo. On the pricier side, so also good for a date night. ;) Don't miss the baked scallop roll, with mushrooms that they torch on the table when it's being served to you.
- Sage in Echo Park is great if you're really hungry – since it's pretty greasy and huge portions. I'm obsessed with their deep-fried artichokes hearts.
Don't forget to follow Eddie and let us know who you'd like to hear from next! x